Swim Classes
Our Program
We offer parent/tot, group, private and adult swim lessons. In addition, we offer a swim team technique and endurance introduction class for children.
Flying Fish Swim Academy provides the highest quality lessons for children 6 months and older.
Swim lessons run on a perpetual monthly enrollment system. Once you have a day and time that works for you that spot will be reserved as yours for as long as you choose. When your child graduates from Minnow to Flying Fish your lesson time will remain the same.
Our online registration system allows you to sign up conveniently and monitor your account and your child's progress with ease.
We offer a 3:1 student to teacher ratio for all group lessons.
Make up lessons will be offered at no additional charge.
View schedule and register for classes
Our Curriculum
Flying Fish will teach a skill-based acquisition curriculum. After your child displays a mastery of skills from one level, they will immediately be introduced and taught the next level of skills. On your child's first day of lessons an evaluation will occur and we will quickly have your child placed at the correct level.
Parent/Tadpole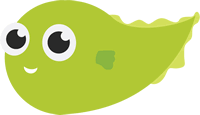 6:1 ratio / 30 minutes
Ages 6 months to 3 years old.
Our parent tadpole programs develop skills weekly through song and play. These skills include back floating, propulsion, submerssions and overall safety skills. These classes are designed for bonding between parent and baby and for both parties to learn the weekly skills. The two different levels are defined by age but also by comfort level. If a younger swimmer is comfortable and ready to learn more advanced skills they will be allowed to move up to the next level.
Parent Tadpole 1 (6 mos-18 mos) - This course is designed to introduce the youngest of swimmers to the water. In this class swimmer and parent will engage in several activities to have fun in the water and teach babies to hold their breath. Eventually baby will learn to blow bubbles as well as assisted front and back floats.
Parent Tadpole 2 (19 mos- 3 yrs) - This course is designed for more advanced young swimmers. In this course we work to develop independent skills. These skills include independently floating, submerging and climbing out of the pool. This course also explores separation between parent and swimmer. Another goal of this course is to confidently attend a class with parent out of the water.
Minnow/Course 1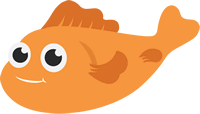 3:1 ratio / 30 minutes / 7 levels
Minimum age 3 years
This is our beginning course. Almost every child will begin here.
A child who graduates from our Minnow course will be able to swim the length of our pool, 65 feet, with a modified roll breathing freestyle and be able to swim the length of our pool demonstrating backstroke.
A graduate will be able to jump in and swim the width of our pool, 25 feet, without wearing swim goggles.
A graduate without swim goggles will be able to jump into the pool while wearing clothing and shoes and be able to safely swim back to the side of the pool. *Flying Fish will provide the clothing and shoes while learning this safety skill.
Flying Fish/Course 2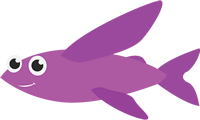 3:1 ratio / 30 minutes / 7 levels Prerequisite: A Minnow graduate or with a managers approval.
A child who graduates from our Flying Fish course will be able to perform all 4 competitive strokes; butterfly, backstroke, breaststroke and freestyle, the length of our pool. A graduate will be able to demonstrate a race start and flip turn.
As a graduate of the Flying Fish course your child will have the skills to continue in our technique and endurance, Sharks in Training class. A graduate will have the skills to make a club or summer league swim team.
Sharks in Training (Technique and Endurance)

6:1 ratio / 45 minutes
Prerequisite: Flying Fish graduate or with a managers approval.
Sharks in Training will focus on distance swimming with all four competitive strokes. Your swimmer will swim intervals off of a pace clock and learn new drills with kick boards and flippers to increase endurance and refine technique.
Sharks in Training will teach swim team etiquette and the value of listening to coaches within a swim team environment. We will prepare your swimmer to form great relationships with future club swim coaches and teammates.
Adult Swim Lessons (Beginner/Intermediate/Advanced)
Adult Lessons available through our Private Lesson program. Click here to contact us and learn more about Adult Private Lessons.